Drum Circles
For All Ages:
Book your special drum circle with Pashyo
Price starts at $200 and depends on location and size of circle.
Contact
Pashyo with your needs.
Check out Pashyo's drum circle videos:
Drum Circle at Motherland Music
Open Air Drum Circle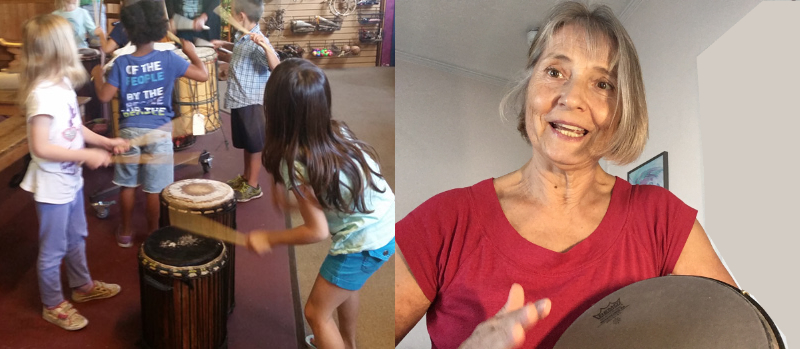 Magical Drums, Dance, Songs and Ukulele!
For Children 2 years and up Learning music at an early age brings joy for a lifetime. Whether it's dancing, singing, drumming or playing the Ukulele - Music brightens the day! Lessons offered on zoom, in your backyard or in the park. 

Book a private session or get your friends to participate in a small group session.

- World Music: Kids have fun with singing, percussion, songwriting and dance. - Bucket Drumming, Songs and Rhymes: Only a pair of sticks and a bucket are needed and the fun can begin. Kids learn rhythms, drum technique and play with words and rhymes.
- Ukulele and Singing: Kids learn songs from around the world, how to strum and play chords on the Ukulele and basic music theory.
- Singing Show Tunes: Kids learn how to use their voices with ease and study show tunes from various musicals.
- Dance and Stretch: Moving to uplifting music, kids learn short routines, body awareness, co-ordination and yoga.
Prices for zoom lessons:
$65 for private lessons

$20/child for groups of 4 or more
Lessons in the park or in your backyard are also offered in the Los Angeles area.
Payments can be sent to https://www.paypal.me/pashyo
Contact Pashyo to book your session Contact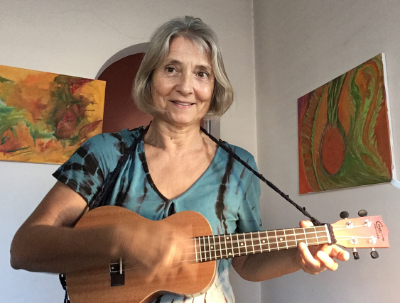 About Pashyo
Pashyo has taught music to babies, toddlers, children and teenagers and adults for many years. She teaches in pre-schools, elementary schools, after-school programs, summer camps and in private lesson. She has performed with various world music bands and is also a singer/songwriter.