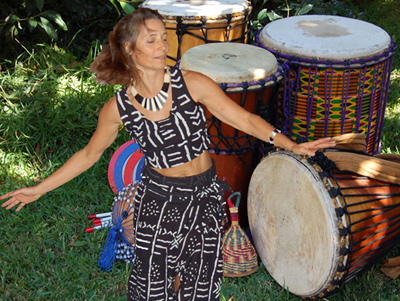 My Mission
I teach drumming, dance and active meditations because these are the tools I have used to empower myself. I stopped worrying and started to live with passion and joy. Drumming... ...empowers ...is meditation ...is creative expression ...gives joy and focus ...brings people together ...creates inner peace and harmony ...invites abundance and overflowing energy.
This is why I love to do what I do. Let's get together, play music, find joy and share it with others! We all need to become a little more crazy and spontaneous.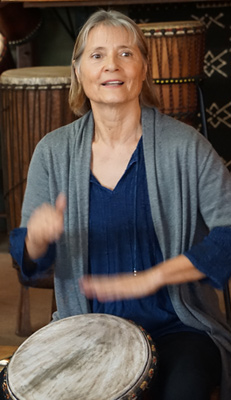 About Pashyo
Pashyo Sarkin is originally from Vienna, Austria and studied dance at the Vienna Volksoper. Later in Berlin, Germany she immersed herself into African drumming and dance, taught in her own private school and gave drumming and dance workshops around the country. After relocating to Los Angeles she studied vocals and piano at El Camino College. She shares her love for music and dance with children and adults of all ages.
"My journey with drumming has been very healing for me. Drumming calms my emotions gives me energy and dissolves my chattering mind. Drumming with a group of sincere drummers is an uplifting, intimate experience that allows me to express my energy in a creative, non-verbal way."
What people say
"Pashyo is without a doubt the best drum and dance teacher there is. She is kind and loving, but means business and gets the best out of her students! You will LOVE her classes." Deb Haugen
"I've been drumming with Pashyo for 10 years. It all started with her Magical Drums course at the South Bay Adult School in Redondo Beach. One of the best things I did and continue to do in my adult life!" Dr. Ed Connaughton
"Indeed 'Magical Drums'! I think it has been over 20 years that I had last been seen dancing - due to multiple hip replacements. Suddenly I found the drums carrying me, seducing me...it just happened and I started dancing - much to my own surprise! Thank you for making this little miracle happen!" Annemarie Rawlinson
"It was a great show Pashyo...as always." Aram Kharabati
"I have been practicing drumming with Pashyo for over a year now and am loving it! Pashyo understands the fears a beginner faces and with patience gracefully leads you to overcome these and become a confident drummer. I drum with her weekly and I look forward to every evening we get together. The classes are fun, experiential and there is a free spirit energy which makes you feel comfortable to express who you are. Thank you for your knowledge, patience and compassion!" Lucia Cordeiro Drever